If you are serious about crafting, you have probably dreamed of having a dedicated space for your projects. Working at your desk or kitchen table is fine, but it just is not as convenient as having an area exclusively for crafting. Many projects cannot be completed in a single sitting, and cleaning up in between each session isn't much fun. Plus, if you are working on something like diamond painting, you run the risk of losing pieces or damaging your work.
The solution?
Create a workstation perfectly suited to your craft of choice! If your favorite hobby is working on the best diamond painting kits on the market, there are all sorts of things you can do to tailor your work area to your unique needs. Keep reading to uncover some helpful tips and inspiration for how to create the perfect diamond art workstation.
Set Up a Dedicated Space
Having a dedicated space for your artwork saves you from a lot of frustration while eliminating the hassle of needing to clean up in between crafting sessions. Doing so also allows you to keep all your tools and supplies in one location. Your space could be a spare bedroom, an office or a finished basement. With a bit of TLC, you can even convert an unused garage or shed into a spot perfect for crafting.
If you don't have enough space to dedicate an entire room to crafting, though, don't despair. A dedicated corner of a room works well, too. You could even install a self-contained crafting hutch in your living room or dining room. Whether you buy a pre-made craft hutch or build one yourself, this is an excellent option for anyone who doesn't have a lot of space. When you're done working for the day, just close the doors to protect your work and keep your supplies out of sight. Crafting hutches are especially awesome for crafters who have kids or pets and need to keep their projects and supplies secure.
Make Lighting a Priority
Once you have decided where your diamond art workstation will be, your next priority should be making sure you have plenty of light. Having adequate light prevents eye strain and makes it much easier to see the symbols on your canvas. Plus, it allows you to distinguish between similar colors — like navy blue and black — at a glance.
When possible, setting your station up near a window that lets in lots of natural light is a good start. Since you will also likely work on projects after the sun sets, you will still need some good artificial light. A good overhead light is a must, and it's a good idea to have a task light set up on your work surface, too. If you want the absolute best lighting for diamond art, though, you need a light pad. A light pad is a flat, lighted panel you place your canvas on top of while working. The light shines through the canvas, illuminating the grid. The best light pads are those with flicker-free LED lights because they are easy on the eyes.
Consider Storage Space
Whether your workstation consists of an entire room or takes up considerably less space, you will need to have places to store your extra diamond beads, diamond painting tools, future projects and works in progress. And if you enjoy other crafts, you need places to store those supplies, too.
When it comes to storage solutions, the options are numerous. Start with an organizer for keeping track of your beads. From there, consider adding boxes or bins for storing drill pens, wax and other tools. You can even repurpose shipping boxes by covering them in pretty fabric or wrapping paper.
If space allows, consider mounting a pegboard on the wall near your craft table or inside your hutch. Pegboards and hooks are super useful and allow you to keep a plethora of tools and supplies at your fingertips in a neat, organized manner.
A label maker is a great investment for any diamond artist. Use it to label your extra drills with their DMC color codes, list out which tools belong in which bin, box or basket or easily identify kits you have not started yet. As soon as you start using a label maker, you will wonder how you ever kept things organized without one.
Make It Your Own
Your diamond art workstation should be both functional and aesthetically pleasing. It is your space, so decorate it as you see fit! Hang up a few inspirational posters, display travel photos or deck the entire space out in shades of your favorite color. Whatever makes you happy, incorporate it into your crafting area!
Another way to make your workstation your own is by choosing furniture, storage solutions, etc. that meet your specific needs. When shopping for a chair, for example, think about what would make you comfortable. A rolling office chair is one of the most common options, but if that doesn't work for you, do something else. Consider your personal preferences, too. Do you like having everything you need in front of you and easily accessible, or do you prefer a clean, streamlined look?
Ultimately, your diamond painting workstation should be a place where you can feel comfortable and enjoy the hobby you love. Don't get so caught up in the idea of creating the perfect space you forget to make it well-suited to your needs and preferences.
Closing Thoughts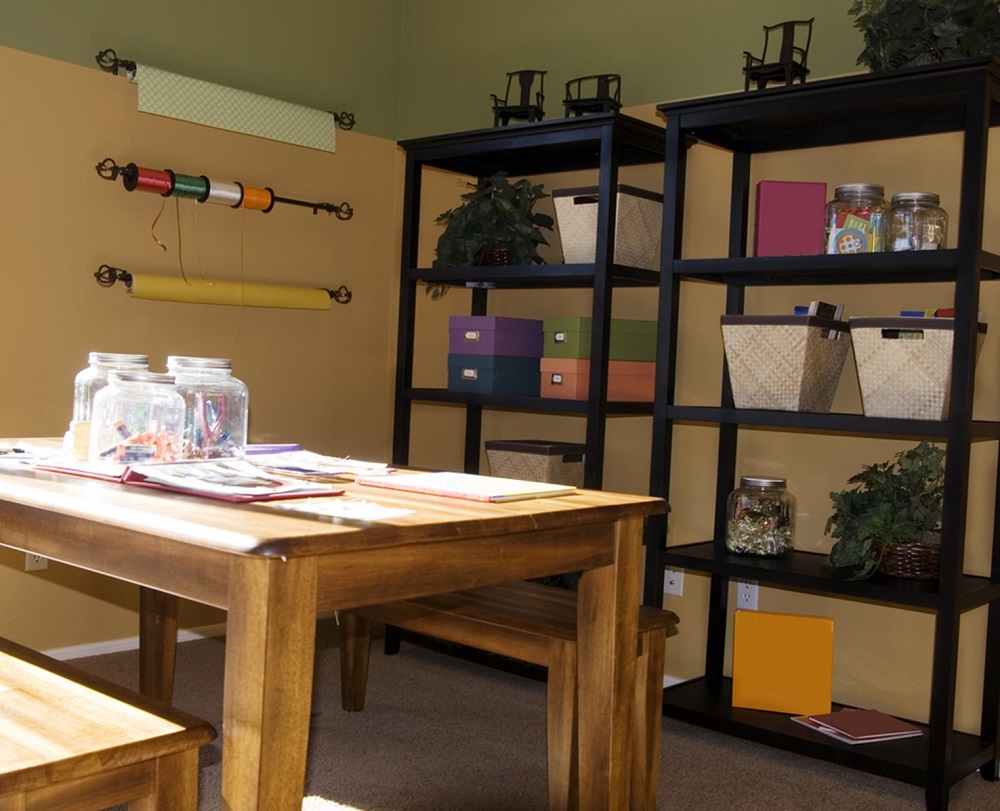 Whether you are brand-new to diamond painting or are a professional diamond artist with several completed projects under your belt, creating a dedicated workstation is a great way to take your creativity to the next level. There are all sorts of ways to create a space that is just right for you. With some ingenuity, you can set up a workstation where you will love spending time. Plus, you might just find your new workspace helps you get your creative juices flowing!